Set Up Email Account on MS Outlook 2010 and higher versions
Step 1. If you are using Outlook for the 1st time- It will prompt you to create a NEW Account ( You May Check Step 2 and Begin ). If you already using Outlook for other Email Accounts then you have to click on File Tab > then Add Account Tab.
Step 2. Under the Add New Account window, you have to leave all the options blank and Select the button ( Manually configure server settings ) and the click Next tab at the bottom.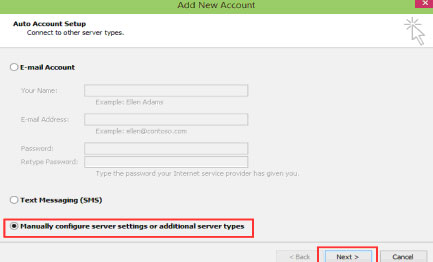 Step 3. Select the Internet E-mail option and then Next.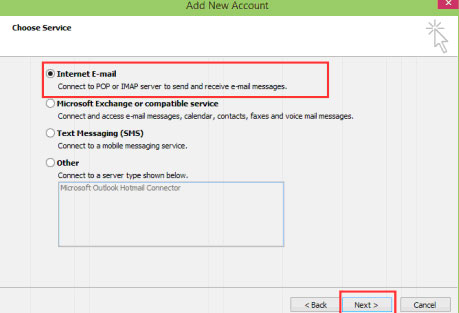 Step 4. Below is the window where you'll enter server settings as follows for POP3 configuration:
Your name – Your Name
Email address – enter the complete email address.
Account Type – POP
Incoming mail server – pop.rediffmailpro.com
Outgoing mail server ( SMTP ) – smtp.rediffmailpro.com
User Name – enter the complete email address
Password – Password of above email id
Checkit on remember password box
Click on More settings Tab in right side bottom.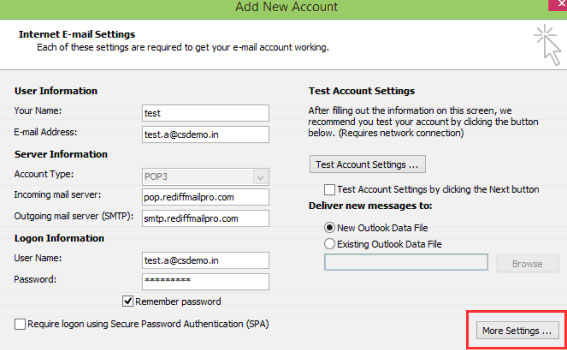 Step 5. A New Window of "Internet E-mail Settings" will appear as shown below. Click on Outgoing Server Tab on the top if this Window.
Checkit on My outgoing server ( SMTP ) requires authentication.
Also select the option (•) Use same settings as my incoming mail server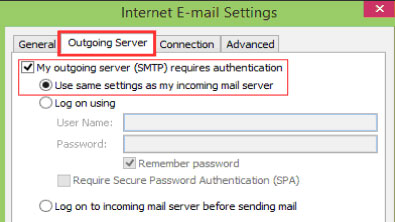 Step 6. Click on the Advanced Tab on the same window and enter below mentioned port settings.
Incoming server ( POP3 ) : 995
Checkit This server requires an encrypted connection ( SSL ).
Outgoing server ( SMTP ) : 586
Use the following type of encrypted connection: Select SSL
Checkit Leave a copy of message on the server – ( check or uncheck its user-defined )
Click OK to close the "Internet E-mail Settings" window.
Step 7. Click Next. Then Outlook will test the settings, and confirm, "all tests completed successfully" : If this message is shown as below click on Close Tab.
*If Outlook tells you a test fails, double-check to be sure you've entered the settings correctly and then Click Finish to complete the settings of adding your Email Account Successfully.
Congratulations! You have setup mailbox successfully!